KGM Partners with Bartlett Controls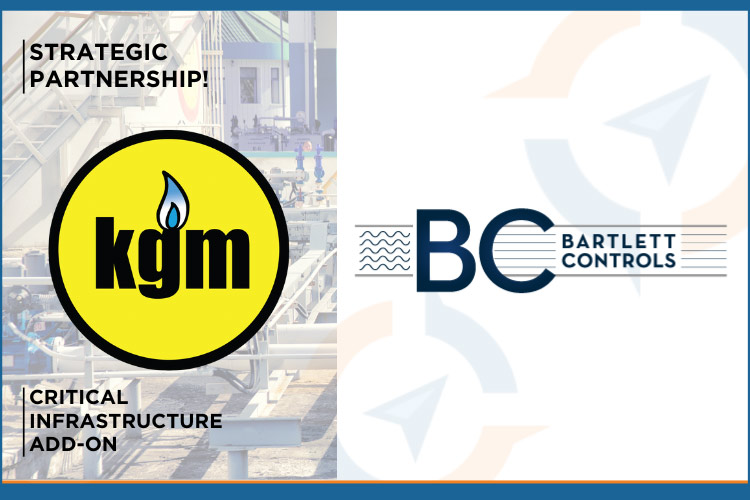 Since partnering with Compass Group in 2021, KGM, a leading value-add distributor of regulators, valves, and measuring equipment for residential and commercial utility companies, has experienced an impressive growth trajectory and recently partnered with North Carolina-based Bartlett Controls, further expanding their reach across the United States.
The strategic partnership unlocks key territories for KGM in the Carolinas and Virginia and creates significant opportunities for both industry-leaders to streamline purchasing and further broaden their OEM and product extension pipelines. Bartlett Controls will continue operating under its own entity with the current executive leadership team at the helm.
KGM's CEO Tim Wood and Bartlett Controls' CEO Tommy Bartlett have a relationship that spans decades, and the partnership between KGM and Bartlett comes at an ideal time as OEMs look to strengthen their relationships with their most valued distribution partners. By joining forces, Bartlett's seasoned sales team now has an enhanced ability to service customers by tapping into KGM's large stock of products while KGM has gained access to new markets and four new states.
To better serve customers and ensure timely access to mission critical products, Bartlett Controls and KGM utilize a stocking distribution model which is beneficial to customers and OEM partners. "KGM and Bartlett both have robust inventory management programs, which position them to meet urgent customer demands and be true solution providers," said Bobby Bryan, Compass Group's Director working with KGM. "We continue to be excited about the future at KGM and are well positioned to capitalize on growing demand and technological advancements in the industry."
Since joining the Compass Group family in December of 2021, KGM has grown from a regional distributor to a national powerhouse, serving some of the nation's largest utilities and hundreds of municipalities. In 2021, KGM served customers in 20 states. They're now operating in 29 states and have gained access to new products allowing KGM to offer more comprehensive solutions to its customers. To service their expanded area of operation, KGM has grown from four locations to six locations and is planning to open two additional offices later this year.
Click here to learn more about Bartlett Controls.
About KGM
KGM is a value-add distributor and servicer of meters, regulators, valves, and other critical measuring and flow-control equipment to utilities and municipalities nationwide. With an increased emphasis on safety, proper measurement, flow control, and communication, utilities and municipalities choose KGM for their product offerings, technical expertise, and ability to customize products.
Back