Compass Group Continues to Grow with New Leadership Additions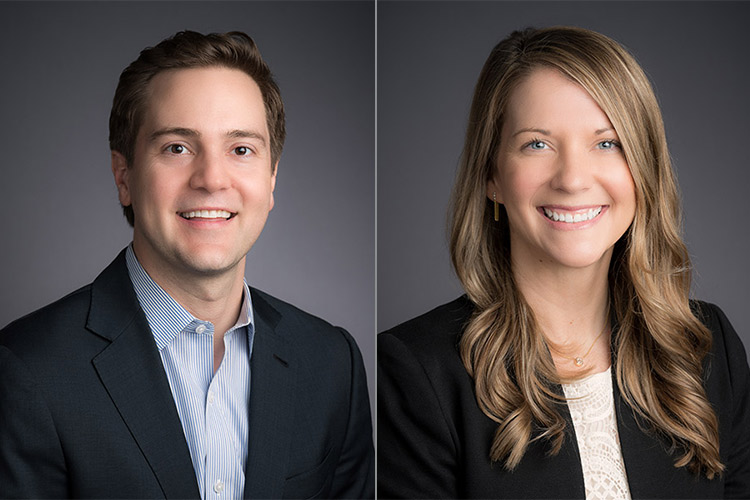 Compass Group Equity Partners, a St. Louis-based private equity firm specializing in partnering with and growing lower middle-market companies, today announced the hiring of Katie Cason as Chief Financial Officer and John Hubert as Vice President.
Katie brings 18 years of corporate experience across many disciplines, including finance, accounting, strategy, communications and investor relations. She served most recently as Senior Vice President of Strategy & Communications at Aegion Corporation and was integral in efforts to successfully take the company private in a +$1 billion transaction last May. Prior to that, Katie worked for industry bellwethers in the St. Louis region, including Edgewell Personal Care, Peabody Energy and Anheuser-Busch. She received her MBA from Washington University in St. Louis and BSBA in Accounting from Southeast Missouri State University. Katie succeeds Robert Bryan in her role as Chief Financial Officer and will also oversee firm compliance and provide other strategic and functional support. Robert remains with the firm and is now able to be fully dedicated to sourcing investment opportunities and providing strategic support to portfolio company partners.
John joins Compass Group from PJT Partners, formerly The Blackstone Group, where he served as Vice President in their Restructuring & Special Situations Group. He brings a 12-year career of advising companies and their management teams across a range of transactions including debt and equity financings, M&A and restructurings. John received his MBA from Columbia Business School and a BS in Economics and Art History from Duke University. John will be responsible for sourcing, evaluating and executing new investment opportunities.
"We are so pleased to bring Katie and John on board in our efforts to build out our high-caliber team to support our continued growth and strategic plans," said John Huhn, Compass Group's Founder and Managing Partner. "Together, they bring 30 years of corporate, M&A and banking experience, which will enable continued success in our mission to be the premier private equity partner in driving significant value creation for lower middle market companies focused in the Mid-America region."
Back